In November last year, Turkey's total welded tube exports increased by 47.2 percent to 162,439 metric tons compared to October and were down 9.0 percent year on year, according to the data provided by the Turkish Statistical Institute (TUIK). These exports had a value of $156.65 million, increasing by 33.9 percent month on month and falling by 22.2 percent compared to November 2021.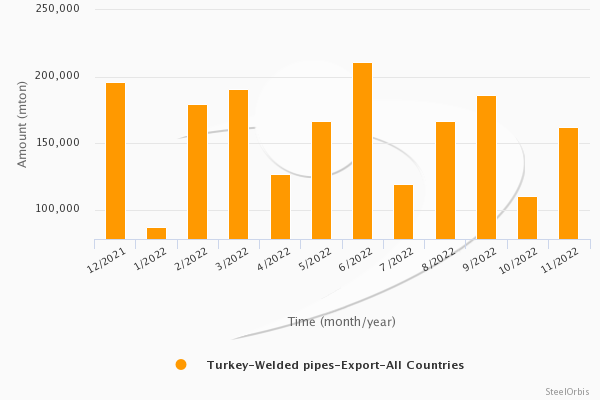 In the January-November period last year, Turkey's welded tube exports amounted to 1.69 million mt, down 0.03 percent, while the value of these exports increased by 14.8 percent to $1.9 billion, both compared to the same period of 2021.
In the given period, Turkey's largest welded tube export destination was Romania which received 231,433 metric tons, down 12.4 percent year on year. Romania was followed by the US with 182,976 metric tons and the UK with 179,201 metric tons.
Turkey's top welded tube export destinations in January-November last year are as follows:
| | | | | | | |
| --- | --- | --- | --- | --- | --- | --- |
| Country | Amount (mt) | | | | | |
| | January-November 2022 | January-November 2021 | Y-o-y change (%) | November 2022 | November 2021 | Y-o-y change (%) |
| Romania | 231,433 | 264,076 | -12.36 | 10,721 | 20,786 | -48.42 |
| US | 182,976 | 49,823 | +267.25 | 20,060 | 8,078 | +148.33 |
| UK | 179,201 | 217,338 | -17.55 | 27,538 | 28,526 | -3.46 |
| Iraq | 124,438 | 150,732 | -17.44 | 14,635 | 13,347 | +9.65 |
| Israel | 117,649 | 110,772 | +6.21 | 6,844 | 11,823 | -42.11 |
| Egypt | 96,592 | 22,190 | +335.30 | 3,888 | 7,164 | -45.73 |
| Belgium | 72,683 | 139,821 | -48.02 | 6,421 | 16,275 | -60.55 |
| Canada | 54,305 | 52,214 | +4.0 | 2,976 | 2,751 | +8.18 |
| Mexico | 48,805 | 12,344 | +295.37 | 1,632 | 943 | +73.06 |
| Italy | 39,863 | 63,535 | -37.26 | 2,206 | 5,780 | -61.83 |
Turkey's main welded tube export destinations in January-November last year are as follows: