Usually, there's a widening of "spreads" in the global steel business during steel shortage conditions. These widened spreads, in fact, contain the price/cost relationships that have created the current steel mills' "Golden Profit Age."
In our previous Strategic Insight reports– titled "The Game of Spreads: Part I and Part II" – we examined the price spreads since 2010 for: 1) the Chinese home-market steel price versus the iron ore + coking coal cost; 2) Turkey rebar export price versus Turkey HMS 1&2 80/20 import scrap price; 3) the USA HRB Price versus the Shredded steel Scrap Price for PART I; 4) USA hot-rolled band price versus Chinese steel mill ex-works hot-rolled band price; 5) the HRB export price versus the iron ore and coking coal cost per tonne and 6) the China hot-rolled band price versus the TSI Iron Ore price delivered to China for part II. In this report, we examine three more relationships:
Here are the following spreads:
Spread 1: USA HRB versus Western Europe HRB spot price. The price of USA hot rolled band is currently about $2,124 per tonne, with the Western Europe HRB spot price at about $1,190 per tonne – or, an amazing $934 per tonne spread. The typical spread is generally between $100 to $200 per tonne.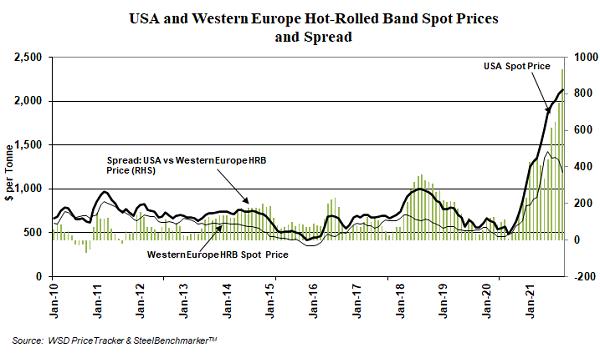 Spread 2: Brazilian Pig Iron versus USA Prime Industrial Scrap. Since early 2010, the spread has often been about $50 to $100 per tonne average. It has since spiked to about $200+ per tonne in recent months. The current price of prime scrap is about $581 per tonne compared to Brazilian pig iron price of $495 for a spread of $86 per tonne.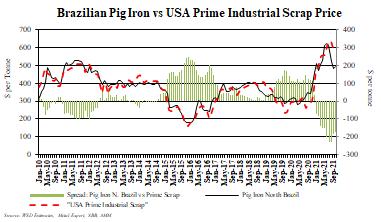 Spread 3: The U.S. prime industrial scrap, and the price of shredded steel scrap delivered to the steel mill. Over the years, the typical spread has been about $40 to $60 per ton. It has surged to about $160 per ton. Prime Industrial scrap is currently about $590 per ton versus Shredded scrap at about $468 per ton for a spread of $122 per gross ton.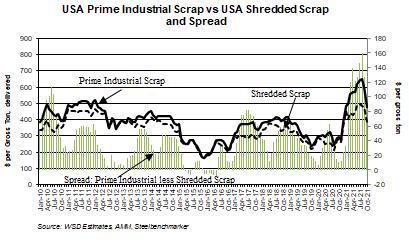 This report includes forward-looking statements that are based on current expectations about future events and are subject to uncertainties and factors relating to operations and the business environment, all of which are difficult to predict. Although we believe that the expectations reflected in our forward-looking statements are reasonable, they can be affected by inaccurate assumptions we might make or by known or unknown risks and uncertainties, including among other things, changes in prices, shifts in demand, variations in supply, movements in international currency, developments in technology, actions by governments and/or other factors.
The information contained in this report is based upon or derived from sources that are believed to be reliable; however, no representation is made that such information is accurate or complete in all material respects, and reliance upon such information as the basis for taking any action is neither authorized nor warranted. WSD does not solicit, and avoids receiving, non -public material information from its clients and contacts in the course of its business. The information that we publish in our reports and communicate to our clients is not based on material non-public information.
The officers, directors, employees or stockholders of World Steel Dynamics Inc. do not directly or indirectly hold securities of, or that are related to, one or more of the companies that are referred to herein. World Steel Dynamics Inc. may act as a consultant to, and/or sell its subscription services to, one or more of the companies mentioned in this report.
Copyright 2021 by World Steel Dynamics Inc. all rights reserved