According to the data provided by the Turkish Statistical Institute (TUIK), in November last year Turkey's hot rolled coil (HRC) imports decreased by 61.6 percent year on year to 161,977 metric tons, down 30.0 percent compared to October. The revenue from these imports amounted to $111.19 million, declining by 25.2 percent month on month and by 71.6 percent compared to the same month of 2021.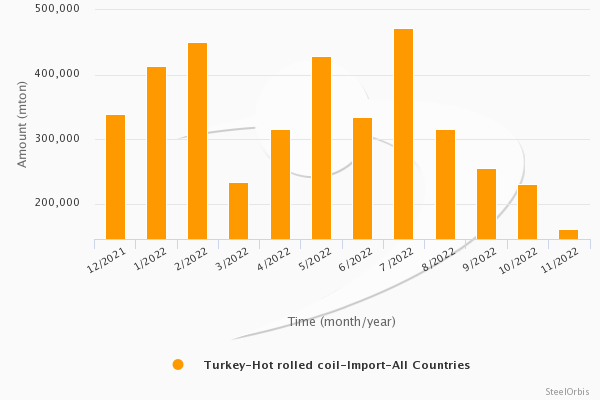 Meanwhile, in the January-November period of last year, Turkey's HRC imports amounted to 3.61 million metric tons, down 20.8 percent year on year, while the revenue generated by these imports totaled $3.11 billion, dropping by 17.9 percent compared to the same period of 2021.
In the given period, Russia ranked first among Turkey's HRC import sources, with its HRC exports to Turkey amounting to 1.1 million mt, down 40.7 percent year on year, followed by India which shipped 569,223 mt of HRC to Turkey in the given period.
Turkey's top HRC import sources in January-November are as follows:
| | | | | | | |
| --- | --- | --- | --- | --- | --- | --- |
| Country | Amount (mt) | | | | | |
| | January-November 2022 | January-November 2021 | Change (%) | November 2022 | November 2021 | Change (%) |
| Russia | 1,099,500 | 1,853,946 | -40.69 | 62,812 | 174,741 | -64.05 |
| India | 569,223 | 614,749 | -7.41 | 31,346 | 25,587 | +22.51 |
| China | 517,484 | 148,322 | +248.89 | - | - | - |
| France | 270,338 | 233,610 | +15.72 | 30,150 | 23,749 | +26.95 |
| Japan | 257,106 | 391,008 | -34.25 | 8,222 | 28,688 | -71.34 |
| Ukraine | 203,789 | 985,428 | -79.32 | - | 99,336 | - |
| Brazil | 178,041 | 60,319 | +195.17 | - | 33,277 | - |
| UK | 130,972 | 10,782 | +1114.73 | 524 | - | - |
| Netherlands | 106,897 | 18,848 | +467.15 | 15,842 | - | - |
| Belgium | 59,143 | 57,041 | +3.69 | 2,170 | 6,785 | -68.02 |
Turkey's main HRC import sources in January-November are as follows: