In October this year, Turkey's total hot rolled coil (HRC) exports increased by 4.8 percent to 208,916 metric tons compared to September and were down 19.6 percent year on year, according to the data provided by the Turkish Statistical Institute (TUIK). These exports had a value of $96.51 million, up 5.5 percent month on month, while decreasing by 24.7 percent compared to the same month of 2019.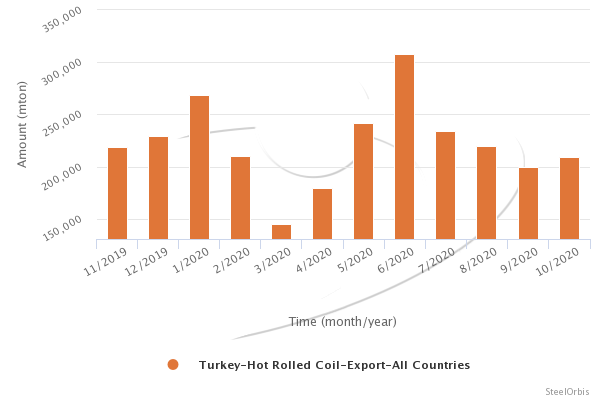 In the January-October period of this year, Turkey's HRC exports amounted to 2.22 million mt, down 15.5 percent, while the value of these exports decreased by 26.1 percent to $1.01 billion, both compared to the same period of 2019.
In the first ten months of this year, Italy ranked first among Turkey's HRC export destinations, with its HRC imports from Turkey amounting to 785,562 mt, down 9.33 percent, followed by Egypt which received 316,691 mt of HRC from Turkey in the given period.
Turkey's top HRC export destinations in January-October are as follows:
| | | | | | | |
| --- | --- | --- | --- | --- | --- | --- |
| Country | Amount (mt) | | | | | |
| | January-October 2020 | January-October 2019 | Y-o-y change (%) | October 2020 | October 2019 | Y-o-y change (%) |
| Italy | 785,562 | 866,352 | -9.33 | 56,353 | 84,873 | -33.60 |
| Egypt | 316,691 | 184,620 | 71.54 | 1,436 | - | - |
| Spain | 304,250 | 508,310 | -40.14 | 8,566 | 76,587 | -88.82 |
| Bulgaria | 150,361 | 108,751 | 38.26 | 23,805 | 14,207 | 67.56 |
| China | 92,004 | - | - | 20,781 | - | - |
| Greece | 77,417 | 84,011 | -7.85 | 6,055 | 14,595 | -58.51 |
| Belgium | 67,176 | 127,594 | -47.35 | - | 4,637 | - |
| Portugal | 66,500 | 183,383 | -63.74 | - | 33,898 | - |
| South Africa | 58,204 | 10,674 | 445.29 | 18,742 | - | - |
| Pakistan | 57,236 | 56,969 | 0.47 | 57,236 | - | - |
Turkey's main HRC export destinations in January-October are as follows: