Part 2: Background
In our last report, Part 1, we emphasized the positives for Chinese economy and its steel mills. There is no doubt that, today, the Chinese economy is performing much better than almost any other. And, its policymakers have a number of directions to take in the future, including placing more emphasis on the growth of household spending, in order to keep the economy growing at a good rate.
As well, its steel industry, as was the case after the "Global Economic Crisis" that had a devastating impact on the non-Chinese steel industry in the fourth quarter of 2008 and 2009, is faring far better than the great bulk of its offshore competitors (except for the low-cost Russian steel mills). The Chinese steel industry is currently producing steel at close to record rates – i.e., just about 1.0 billion tonnes annualized. And, steel prices and volumes are high enough for the mills to be reasonably profitable. In April 2020, which will be the low point this year for steel production outside of China, Chinese steel production accounted for a record 60% of the global total. And, its pig iron was an amazing 70% of the global total.
In this memorandum we will consider selective threats to the Chinese Economy and its steel mills.
Threats to the Chinese economy
Two "black clouds" are overhanging the Chinese economy. There are:
The diminishing outlook for apartment sales. Residential construction accounts for about 12% of GDP.
The sustainability of merchandise exports. The country's exports account for about 25% of GDP.
GDP growth after 2021 seems likely to fall back to a 4-5% growth rate since the its financial is burdened with substantial debt and fixed asset investment growth looking ahead probably can't rise much as a share of GDP because its already so high (about 43% of GDP – which was an unsustainable figure for the Japanese and South Korean economies when their growth was peaking).
China's current unemployment rate when including migrant workers may be close to 20% rather than the reported figure of 6% that excludes migrant workers.
Air and water pollution problems in China are so massive and widespread that, especially in the winter months, factories and construction activity in the country's north at times are shut down or reduced in activity levels in order to lessen air pollution.
China's public utilities are highly dependent on domestic steam coal. They consume about 3 billion tonnes of it each year to generate electricity. Each tonne of steam coal that is consumed, believe it or not, generates about 2.7 tonnes of CO2. Hence, CO2 generation from just this source is about 7 billion tonnes per year, or about 19% of the global total of 37 billion tonnes per year from all sources (industry, transportation, buildings and agriculture).
China's low birth rate in the past 20 years is reducing the number of workers in the country – as is the case for the USA, Europe and South Korea.
A number of foreign countries are increasingly imposing sanctions on Chinese goods entering their country.
Because of the coronavirus pandemic, Chinese consumer sentiment in 2020 has become far less optimistic. And, it will take likely take several years, if ever, before the prior feeling about optimism about the future has fully returned.
As is the case elsewhere in the world, Chinese workers are rapidly being replaced by machines. This circumstance places great pressures on its policymakers to undertake actions – such as boosting fixed asset investment – that create new jobs.
The Chinese offshore bond market may be losing some of its luster as a number of Chinese companies, with sizable offshore debt, are in a difficult financial positon.
Threats for the Chinese steel companies
Apparent steel demand by 2030 may decline by at least 50 million tonnes, if not 100 million tonnes, as the economy becomes far less steel intensive – with household spending growth was a share of GDP and fixed asset investment declining as a share of GDP. In 2019, on a crude steel basis, apparent steel consumption was about 950 million tonnes.
An avalanche of trade suits have been filed against Chinese steel mills since 2016 that are limiting the Chinese steel mills' exports. These suits are still ongoing. The Chinese mills are facing more competition for their product especially in Far Eastern markets.
Mandated temporary steel mill production closedowns, or slowdowns, occur fairly frequently in Northern China in order to lessen air pollution.
When any economy expands at a slower rate, there's a strong tendency for steel intensity – which is steel consumption per point of GDP – to recede at a faster pace because services are accounting for a higher share of the GDP growth).
China's steel mills have about average operating costs on a global basis. Its median-cost steelmaker in May 2020 had an operating cost to produce hot-rolled band of about $470 per tonne based on WSD's World Cost Curve.
Ironmaking and steelmaking capacity in China is higher than several years ago reflecting in part the construction of more than 15 large-sized blast furnaces in recent years.
China's domestic iron ore mines are low grade and high cost – in a number of cases with an operating cost for 65% sinter feed at about $75 per tonne. The "Big Four" international iron ore companies are delivering in some cases a higher quality sinter feed to their ports of export for an operating cost of only $14-16 per tonne.
The country's mid-size and larger steel mills are historically "production driven" rather than "profit driven", which adds to the competitiveness of the domestic pricing structure for commodity-grade products in the country. In the case of hot-rolled band, more than 75 wide hot strip mills are vying for market share. The number of rebar producers, including a sizable number of independent rolling mills, probably exceeds 200.
CO2 emissions of by China's steel industry, as noted earlier, are huge since about 90% of its output is via the blast furnace/BOF steelmaking route (that emits at least 2.0 tonnes of CO2 per tonne of steel production.
The current ex-works price for hot-rolled band in China, $470 per tonne as of July 22, 2020, is vulnerable to a $100 per tonne decline if significant overcapacity develops in Chinese steel – and, as well, the world export price falls back and iron ore prices fall sharply.
Steel's new "Age of Protectionism," that came into effect in the third quarter of 2016, has added to price competition on the world market since fewer countries are now open to the import of hot-rolled band and other commodity-grade steel products.
Closures of coking coal mines and coke plants, for safety and environmental reasons, will be a force working to sustain the international price of coking coal.
Cross provincial mergers have been rare in China because each municipality wants steel production to be maximized in its region. Although, this is about to change as Baowu and at least one or two other large companies are seeking to double their size largely via acquisition.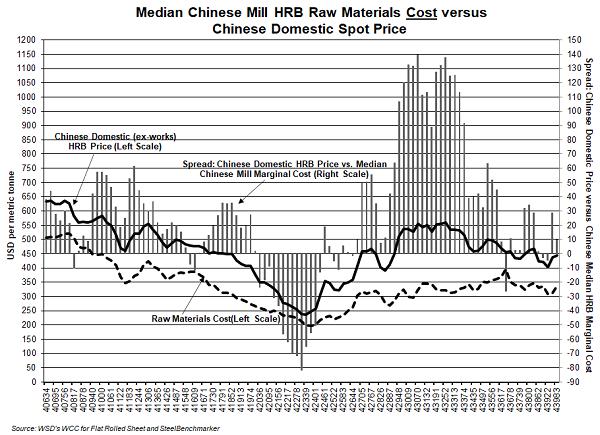 This report includes forward-looking statements that are based on current expectations about future events and are subject to uncertainties and factors relating to operations and the business environment, all of which are difficult to predict. Although we believe that the expectations reflected in our forward-looking statements are reasonable, they can be affected by inaccurate assumptions we might make or by known or unknown risks and uncertainties, including among other things, changes in prices, shifts in demand, variations in supply, movements in international currency, developments in technology, actions by governments and/or other factors.
The information contained in this report is based upon or derived from sources that are believed to be reliable; however, no representation is made that such information is accurate or complete in all material respects, and reliance upon such information as the basis for taking any action is neither authorized nor warranted. WSD does not solicit, and avoids receiving, non-public material information from its clients and contacts in the course of its business. The information that we publish in our reports and communicate to our clients is not based on material non-public information.
The officers, directors, employees or stockholders of World Steel Dynamics Inc. do not directly or indirectly hold securities of, or that are related to, one or more of the companies that are referred to herein. World Steel Dynamics Inc. may act as a consultant to, and/or sell its subscription services to, one or more of the companies mentioned in this report.
Copyright 2020 by World Steel Dynamics Inc. all rights reserved