According to the data provided by the Turkish Statistical Institute (TUIK), in April this year Turkey's wire rod exports increased by 22.4 percent year on year to 161,170 metric tons, down one percent compared to the previous month. The revenue from these exports amounted to $81.55 million, up 2.6 percent month on month and increasing by 0.6 percent compared to the same month of the previous year.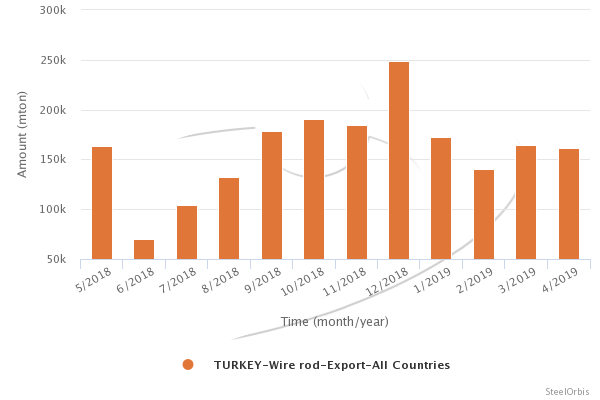 Meanwhile, in the first four months of this year, Turkey's wire rod exports amounted to 634,511 metric tons, up 11.8 percent year on year, while the revenue generated by these exports totaled $320.40 million, decreasing by 3.3 percent compared to same period of 2018.
In the given period, Turkey's largest wire rod export destination was Israel which received 156,154 metric tons. Israel was followed by the Netherlands with 52,517 metric tons and Haiti with 46,330 metric tons.
Turkey's main wire rod export destinations in January-April 2019:
Country

Amount (mt)

January-April 2019

January- April 2018

Y-o-y change (%)

April
2019

April
2018

Y-o-y change (%)

Israel

156,154

115,231

35.51

37,445

9,146

309.41

Netherlands

52,517

50,979

3.02

-

24,809

-

Haiti

46,330

3,675

1160.68

1,932

3,675

-47.43

Romania

35,626

33,004

7.94

317

3,546

-91.06

Morocco

26,270

8,546

207.40

3,446

4,100

-15.95

Bulgaria

25,455

2,025

1157.04

13,700

2,025

576.54

Brazil

21,571

4,884

341.67

21,146

2,165

876.72

Dominican Republic

20,215

11,470

76.24

10,841

2,988

262.82

Turkey's main wire rod export destinations in January-April: