Orbis HRC CIS Export Forecaster - October 2016
July-September 2016 HRC CIS Export Prices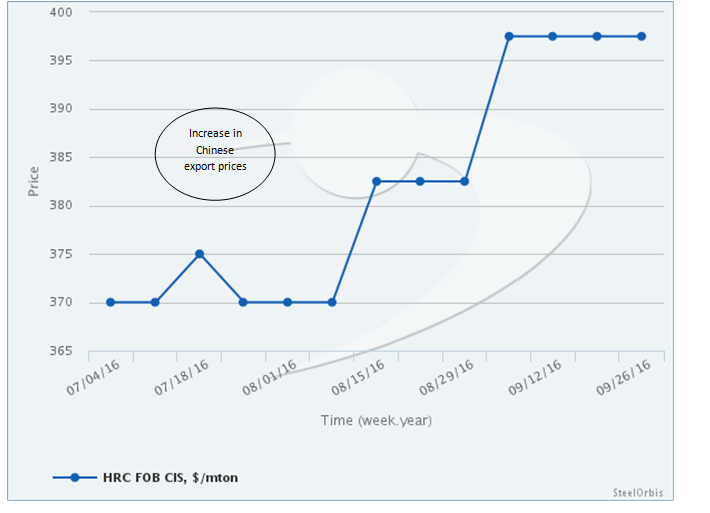 HRC CIS Export
Quality : Prime newly produced hot rolled steel sheet in coil as per DIN EN 10025, S235 JR or equivalent commercial grade
Thickness : 2.00 mm
Width ≥ 1100 mm
Delivery Term: FOB St L/S/D
Location: Main Ukrainian and Russian Black Sea ports
Weekly price movements of different steel products and grades in major markets can be viewed comparatively in the SteelOrbis Historical Steel Prices section. Market trends can thus be seen more clearly, while desired charts can be created and used in reports or presentations.
All charts included in the Orbis HRC CIS Export Forecaster are for HRC FOB CIS prices, while prices and charts for other flat steel grades and regions can be found on our website.
Summary:
Ex-CIS HRC prices fail to gain acceptance following increases in mid-July
Ex-CIS HRC prices rose slightly in the middle of July due to the rises seen in iron ore prices and in Chinese HRC export quotations. However, weak demand conditions in CIS-based suppliers' target markets along with buyers' resistance to the higher prices caused ex-CIS HRC offer prices to decline to their previous levels at the end of July.
Ex-CIS HRC quotations rise again in August
In the month of August, although no improvement was observed in the weak demand situation in the target markets for HRC exports from the CIS region, CIS-based suppliers raised their HRC export offers against the backdrop of a total increase of $37.5/mt in Chinese HRC export prices during the course of the month in question.
Ex-CIS slab prices move sideways in August
From early June to the end of September, ex-CIS HRC prices softened by a total of $22.5/mt, while ex-CIS slab prices declined by just $5/mt, and buyers continued to consider ex-CIS slab prices to be on the high side as demand for ex-CIS slab was at low levels in August. However, the continuing rise in Chinese HRC prices in the same month interrupted the downward trend of ex-CIS slab quotations, supporting a sideways movement despite the weakness of demand.
Ex-CIS prices increase in September
While Chinese HRC prices moved on an upward trend from early July, CIS-based HRC suppliers increased their prices by smaller margins also starting from early July and continued to make only slight upward adjustments compared to the Chinese as they faced weak demand conditions in August. In the middle of September, ex-CIS HRC prices rose by a total of $15/mt against the backdrop of the continuing rise of Chinese HRC export prices.
HRC CIS Export Prices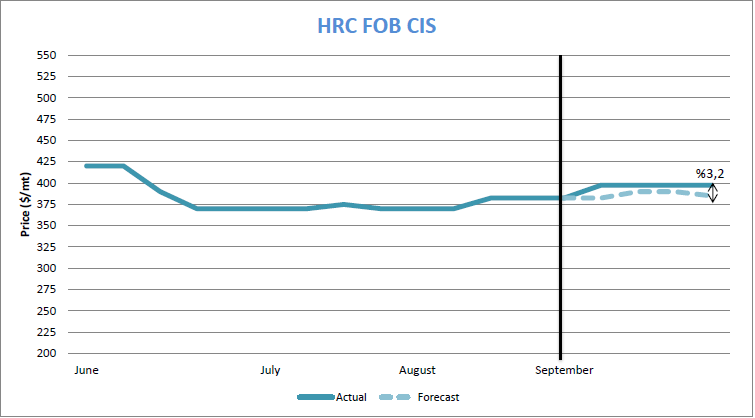 In the Orbis HRC CIS Export Forecaster for September this year, we had predicted that, due to the rapid uptrend of Chinese HRC export offers in August, ex-CIS HRC prices would increase in September supported by the recovery of demand after the summer holidays. However, we had also predicted that ex-CIS HRC offers would decrease slightly in late September, since buyers would exert pressure on prices after meeting their immediate needs. As we predicted, ex-CIS HRC prices increased in September for the reasons we stated. However, even though Chinese HRC offers declined in mid-September, CIS-based HRC suppliers, who had been unable to increase their prices by the same margins as Chinese exporters in previous months, resisted the downward pressure from buyers and did not reduce their prices, keeping their price levels stable in late September. Amid these market conditions, the deviation between our forecast and the actual price as of the end of September was 3.2 percent.
The conditions which impacted the CIS HRC export market in September are as follows:
Prices in local Chinese HRC market decline in September
The Chinese steel futures markets started the month of September on a downward trend. Buyers in the Chinese HRC market considered that this reflected a negative outlook for the Chinese economy and so HRC demand in the market weakened, with prices in the local Chinese HRC market consequently switching to a decreasing trend in the second week of the month. However, with the new regulations regarding road transportation in China coming into force on September 21, road transportation charges in the country increased, causing prices in the local Chinese HRC market to rise slightly in the last week of the month.
Chinese HRC export offers decrease
Having started the month of September with sideways movement following their rapid increases in August, Chinese HRC export offers switched to a downward trend in the third week of September due to the weak demand in the Chinese domestic market and decreasing domestic HRC prices. Despite their downward trend, Chinese HRC export offers continued to remain higher than ex-CIS HRC prices and so they failed to gain acceptance in the target markets. As a result, demand for Chinese HRC in the global market remained weak throughout the month.
Domestic HRC demand increases in Europe after summer holidays
In Europe, buyers increased their bookings of HRC following the end of the summer holidays and after the completion of maintenance works. With the European Commission (EC) initiating antidumping duty investigations on July 11 against hot rolled flat products imports from Brazil, Iran, Russia, Serbia and Ukraine, European buyers' inquiries for ex-CIS HRC decreased significantly and they started to show interest in Turkish material.
Weak demand for ex-CIS HRC in Middle East and Africa
HRC buyers in the Middle East and Africa, who had postponed their bookings before the Feast of Sacrifice holiday in September, stepped up their inquiries slightly for ex-CIS HRC after the holiday. However, these inquiries failed to result in deals since the buyers in question considered the uptrend of ex-CIS HRC prices to be unrealistic. Accordingly, demand for ex-CIS HRC in these regions was weak throughout September.
Turkish demand for ex-CIS HRC remains slack
In September, Turkish buyers' demand for HRC from the CIS region remained weak and they made bookings only to meet their immediate needs, against the backdrop of the continuing political and economic uncertainties in Turkey and the downgrading by Moody's of the country's credit ratings. In this context, demand from Turkish buyers for ex-CIS HRC remained slack throughout the month.
Ex-CIS slab prices maintain their sideways movement
In the month of September, ex-CIS slab quotations maintained their sideways movement as buyers continued to consider ex-CIS slab prices to be on the high side, while demand for slab from the CIS was also at very low levels, with both these factors preventing prices from following an upward trend despite the rise recorded in ex-CIS HRC quotations.
Iron ore prices indicate downward fluctuations in September
Iron ore prices, which started September on a stable trend, softened slightly following the decreases recorded in the Chinese steel futures market after the oversupply in China's steel sector was an issue for discussion at the G20 Summit in China (September 4-5). In the third week of September, with the announcement of official approval for the merger of leading Chinese steel producers Baosteel Group and Wuhan Iron and Steel Group (WISCO), the Chinese steel futures market moved up. Although iron ore prices were supported by this development, moving up slightly, iron ore quotations for China generally fluctuated in a downward direction throughout September, moving in the range of $55-59/mt CFR.
Scrap prices continue to decline in September
Having failed to achieve their desired volumes in terms of finished steel sales, Turkish mills adopted a cautious approach to their scrap purchases, resulting in increased sales pressure on scrap suppliers who had long been struggling amid limited demand. Accordingly, scrap prices indicated a steady decline in September, also due to the influence of falling billet prices.
HRC CIS Export Prices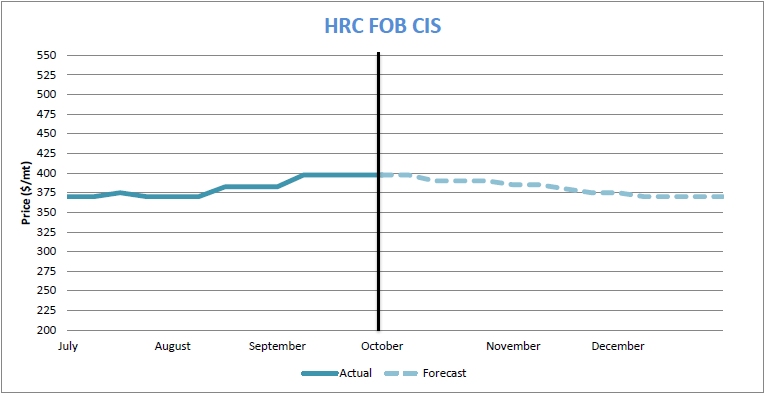 Assessment of semi-finished and finished steel market
Chinese HRC demand unlikely to see significant recovery in short term
Chinese domestic HRC demand is unlikely to record a significant recovery in the short term since the declines in Chinese domestic HRC prices in September negatively affected demand for HRC and also given the anticipated sluggishness of trading activity during the Chinese National Day Holiday (October 1-7).
Ex-China HRC supply expected to increase slightly in global market
Chinese HRC suppliers, who have been focusing on their own domestic markets for the most of this year, are expected to direct their sales to the export markets in the short term amid falling Chinese domestic finished steel demand and with domestic production restrictions to be lifted after the Tangshan International Horticultural Exposition (ends October 16). Consequently, Chinese HRC supply to the global market is forecast to increase slightly.
CIS-based HRC suppliers expected to show greater flexibility on pricing
CIS-based HRC suppliers' target markets have contracted because of antidumping duties and they are expected to be more flexible due to sales pressure, in response to buyers' price expectations and firm bids in the global market.
Purchases of ex-CIS HRC in Turkey likely to remain limited
With the state of emergency still in force in Turkey at the end of September and with the downgrade of the country's credit rating, the already weak HRC demand in the Turkish market is not expected to pick up in the short term given buyers' concerns about the political and economic situation. Turkish buyers will likely continue to purchase HRC from the CIS region only in line with their needs.
CIS-based HRC suppliers expected to be more active in Asian markets
CIS-based HRC suppliers believe that they can increase their sales to the Asian markets because their biggest competitor China will be on holiday in early October, while they are also eager to step up the volume of their offers given to the export markets due to their need to find new markets to replace market shares lost because of antidumping duty cases.
Demand for ex-CIS slab likely to recover slightly
CIS-based suppliers failed to benefit from the increased HRC demand in the EU after the summer holidays due to the antidumping duty investigation in the EU. As a result, they are expected to enter the EU market to meet the demand for slab in the region and so demand for ex-CIS slab will likely recover slightly.
Assessment of raw material markets
China's demand for iron ore to improve slightly in short term
Restrictions on Chinese liquid steel production will be eased and Chinese iron ore demand is expected to increase slightly following the end of the Tangshan International Horticultural Expo on October 16. However, the increase in the Chinese iron ore demand and the liquid steel production will likely remain limited as a result of weak finished steel demand. Meanwhile, the outlooks issued by investment banks and analysts for iron ore prices have improved slightly and now stand in the range of $45-60/mt CFR China for the end of 2016.
Recovery of import scrap prices for Turkey likely to be short-lived
Overseas buyers have postponed their purchases of Turkish rebar in the belief that Turkish export prices will continue to decrease because of falling scrap prices, and this situation has resulted in weakened finished steel sales for Turkish mills. In order to provide support for their finished steel sales, Turkish mills will likely accept a slight recovery in import scrap prices despite strong scrap supply in the Turkish import market entering the month of October and the recovery is expected to be short-lived.
Negative
Sudden changes in foreign exchange rates

Possible new tax applications and increases in tax rates which would negatively impact global trade

Possible new antidumping cases

Changes in global economy due to political uncertainties
Positive
Acceleration of economic improvement in developed countries

Easing of political uncertainties in the Middle East region
July 2013-January 2014 HRC CIS Export Prices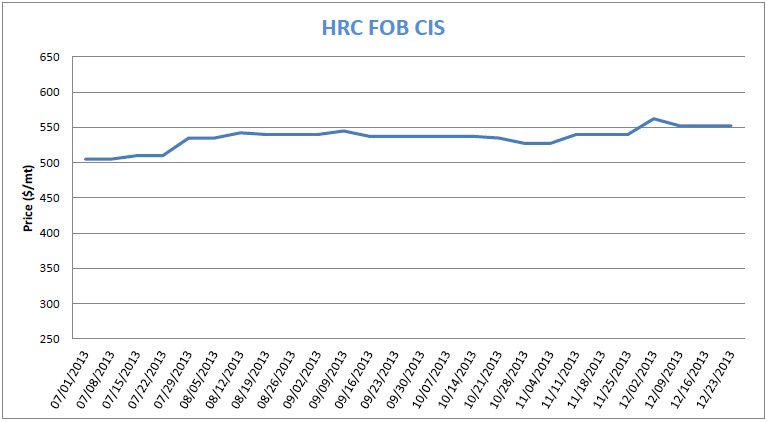 JJuly 2014-January 2015 HRC CIS Export Prices

July 2015-January 2016 HRC CIS Export Prices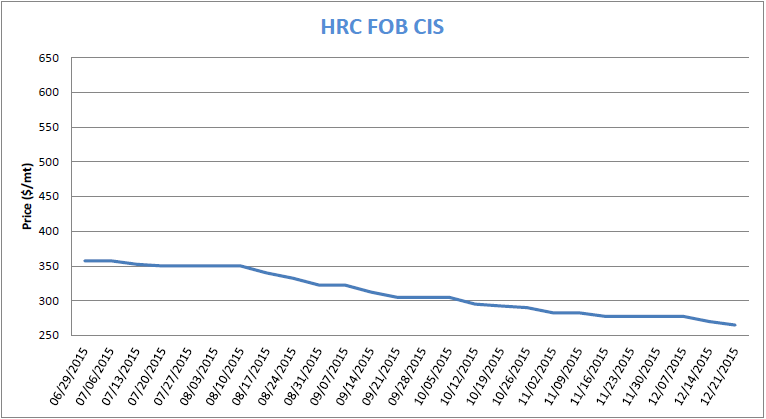 2005-2009 HRC CIS Export Prices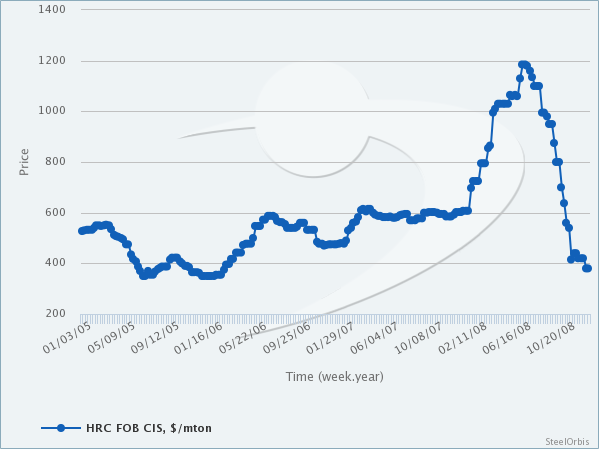 2009-2013 HRC CIS Export Prices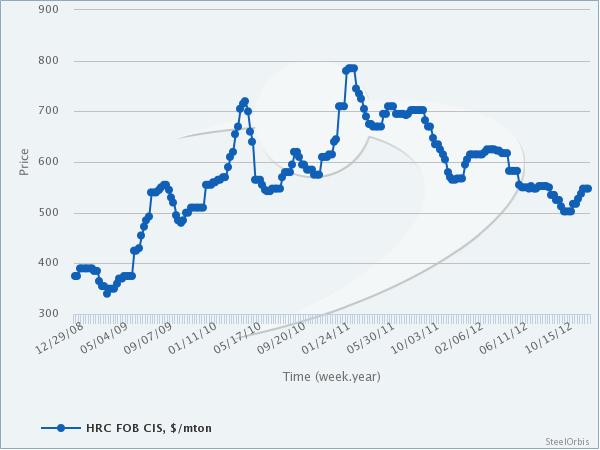 2013-YTD HRC CIS Export Prices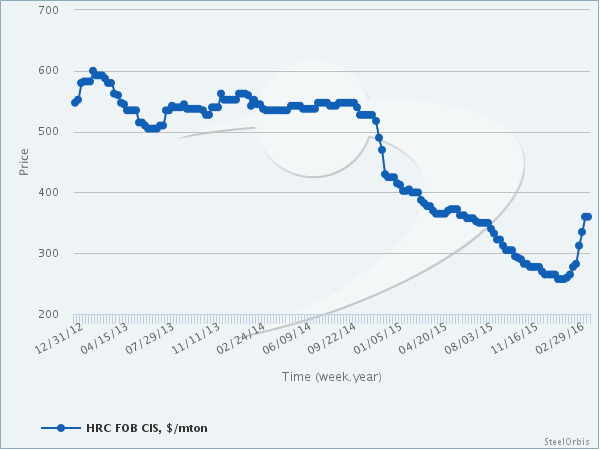 2011 – YTD Global HRC Prices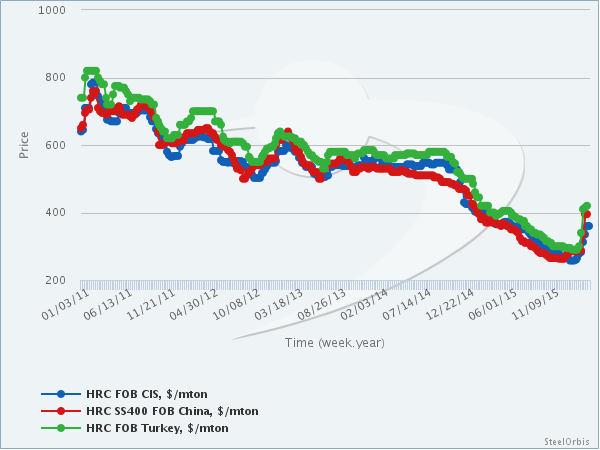 US ITC issues sunset review determination in case against Russian HRC
Friday, 16 September 2016 00:10:58 (GMT+2) -
The US International Trade Commission (US ITC) today determined that revoking the existing antidumping duty order on hot-rolled flat-rolled carbon-quality steel products from Russia would be likely to lead to continuation or recurrence of material injury within a reasonably foreseeable time.
As a result of the Commission's affirmative determination, the existing antidumping duty order on imports of these products from Russia will remain in place.
All six Commissioners voted in the affirmative.
Metinvest's Ilyich to increase steel capacity
Wednesday, 07 September 2016 14:28:05 (GMT+2) - Istanbul
Ukrainian mining and steel producing group Metinvest has announced that its subsidiary Ilyich Iron & Steel Works of Mariupol has launched a large-scale revamp project to build a continuous casting machine No. 4 with an investment of about $150 million. The new equipment will allow for higher productivity, cost reduction, steel product quality improvement, and environmental improvements in Mariupol. The construction of the continuous casting machine is starting in the current month, with commissioning planned for 2018.
The construction of the new two-strand continuous casting machine will be carried out by Primetals Technologies Austria GmbH, a subsidiary of UK-based plantmaker Primetals Technologies. The new equipment will produce 2.5 million mt of premium cast slabs annually for re-rolling at Metinvest's mill 1700.
India imposes preliminary AD duty on CR flat products from four countries
Friday, 19 August 2016 14:44:39 (GMT+2) - Istanbul
India's Ministry of Finance has announced its preliminary determinations in its antidumping (AD) duty investigation of imports of cold rolled (CR) flat steel products of iron or non-alloy steel, or other alloy steel, of all widths and thickness, not clad, plated or coated, originating in or exported from China, Japan, South Korea and Ukraine. The duty rate is equivalent to the difference between the minimum reference price of $594/mt and the realized import prices. The preliminary duty will be effective for a period of six months.
The investigation launched upon a complaint received from Indian producers Steel Authority of India Limited (SAIL), JSW Steel Limited, Essar Steel India Limited and JSW Steel Coated Products Limited covers the period between July 2015 and December 2015.
The products in question currently fall under Customs Tariff Statistics Position Numbers 7209, 7211, 7225 and 7226.
Italian steel distributors form consortium for imports of HR flats
Thursday, 21 July 2016 10:05:51 (GMT+2) - Brescia
SteelOrbis has heard that some members of the Italian steel distribution association, Assofermet, have formed the Consortium for Imports of Hot Rolled Flats (CIHRF) to represent the interests of European primary and secondary users of hot rolled coils (HRC), "with the aim of protecting their freedom to source these products from third countries".
According to market sources, the recent news about the antidumping duty case launched by the EU against the hot rolled coil imports from Brazil, Iran, Russia, Ukraine and Serbia raised concerns among the Italian steel distributors. They did not find any real reason for this case and they are worried that this should open the door to other trade cases against other countries like India, Turkey and South Korea.
The CIHRF aims to set up a common position against the adoption of antidumping measures on imports of hot rolled coils originating in the countries concerned by the investigation, to lay down a common defense strategy within the framework of the investigation and to keep the members informed about the implications and effects of the investigation.
Tommaso Sandrini, Assofermet steel division president, said that Italian distributors are showing great interest in joining the consortium, warning that this antidumping duty investigation poses a risk of creating another problem which is the possibility of European producers becoming an oligopoly, while trying to prevent inflow of imported products.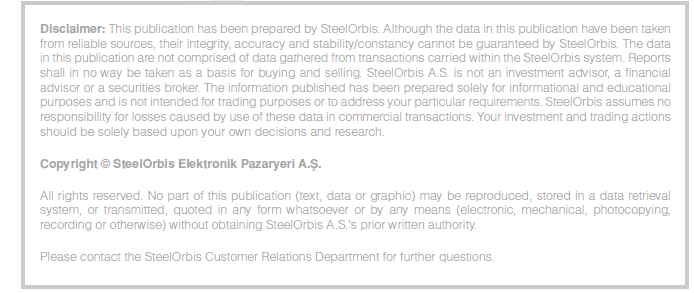 Print