Orbis HRC CIS Export Forecaster - January 2016
October-December 2015 HRC CIS Export Prices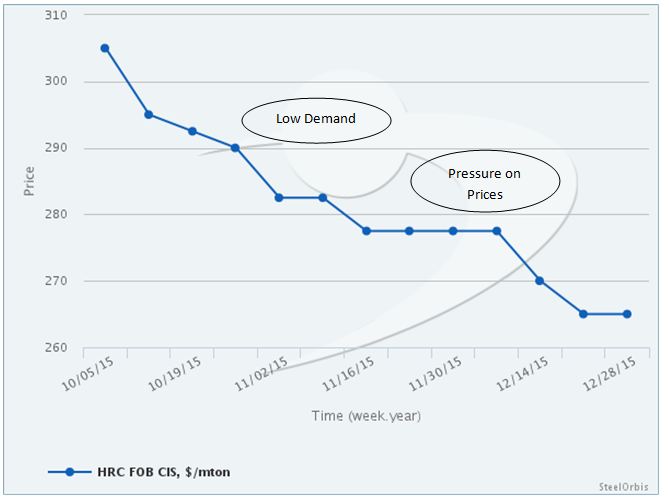 HRC CIS Export
Quality : Prime newly produced hot rolled steel sheet in coil as per DIN EN 10025, S235 JR or equivalent commercial grade
Thickness : 2.00 mm
Delivery Term: FOB St L/S/D
Location: Main Ukrainian and Russian Black Sea ports
Weekly price movements of different steel products and grades in major markets can be viewed comparatively in the SteelOrbis Historical Steel Prices section. Market trends can thus be seen more clearly, while desired charts can be created and used in reports or presentations.
All charts included in the Orbis HRC CIS Export Forecaster are for HRC FOB CIS prices, while prices and charts for other flat steel grades and regions can be found on our website.
Summary:
Ex-CIS HRC prices continue to move down in October
Ex-CIS hot rolled coil (HRC) prices started to fall as of June and continued their downward trend in October. On the other hand, Chinese HRC prices maintained their sideways movement from the beginning of October up to the middle of the same month, with this stability of Chinese prices not exacerbating the competitive environment in the global HRC market. Nevertheless, HRC suppliers in the CIS region accepted buyers' firm bids in order to regain ground in the Middle Eastern markets and to avoid losing their market share in their biggest target destinations. Accordingly, ex-CIS HRC prices declined by an average of $15/mt in October.
Chinese HRC offers mostly move sideways in November
After Chinese HRC suppliers' decision to reduce their prices at the start of November, buyers continued to exert downward pressure on global HRC prices. Despite this pressure, Chinese suppliers were unable to reduce their HRC prices further due to profitability issues. As a result, Chinese producers found it difficult to conclude new deals, but most of them had already reached their targeted annual export volumes for 2015, which allowed them to keep their price levels unchanged as they sought to avoid incurring further losses against the backdrop of reduced government support for steel producers.
CIS suppliers under pressure to conclude export sales in November
In November, domestic demand for steel in the CIS region declined further amid cold weather conditions. Meanwhile, HRC suppliers in the CIS region needed to conclude export sales and so they accepted buyers' firm bids. In this context, in November ex-CIS HRC prices softened by $12.5/mt on average month on month.
Buyers seek alternative suppliers for slab in November
Steel plants with electric arc furnaces started to seek alternative slab suppliers amid the increases seen in scrap prices and also since ex-CIS slab prices remained firm despite pressure from buyers. With problems regarding profit margins increasing further due to rising raw material costs, steel producers with electric arc furnaces started to contact slab suppliers in Asia and Iran.
Sharp declines seen in iron ore prices in November
In the month of November, iron ore prices declined by around ten percent overall against the backdrop of the ongoing oversupply problem in the global markets and declining iron ore consumption in China exacerbated by cold weather conditions, which caused domestic steel production to fall. This led Chinese steel producers to skip their traditional restocking of iron ore for the winter season.
Ex-CIS HRC prices soften in December
In line with the trend seen in previous months, ex-CIS HRC prices declined by $12.5/mt on average in December due to buyer's price pressures.
HRC CIS Export Prices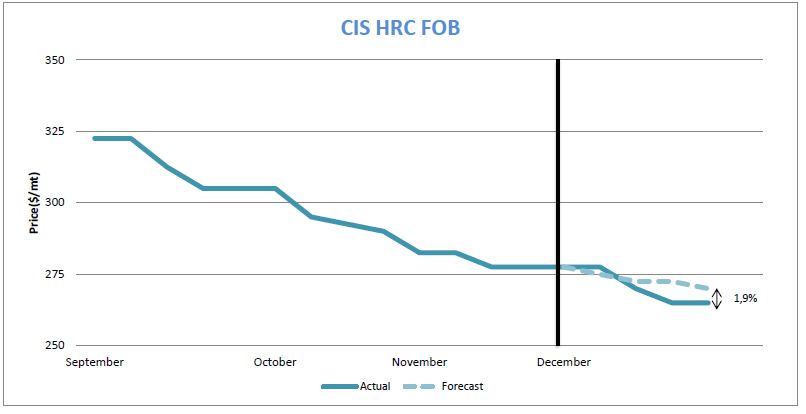 In the Orbis HRC CIS Export Forecaster for December this year, we had predicted that ex-CIS HRC prices would continue to follow a downward trend in December. As we predicted, ex-CIS HRC prices continued to decrease since suppliers were unable to resist the pressure exerted on prices by buyers, though the decline margin was slightly bigger than we had forecast. Accordingly, as of the end of the month the deviation between our forecast and the actual price stands at 1.9 percent.
The conditions which impacted the CIS HRC export market in December are as follows:
HRC prices increase in Chinese domestic market
In December, HRC supplies in the Chinese domestic market declined slightly as a result of winter weather conditions, production cuts caused by lack of profit margins, and also due to compulsory production cuts enforced due to air pollution in Beijing. The reduced HRC supply resulted in an increase in Chinese domestic prices.
Ex-China HRC offers soften
After achieving their sales volume targets, Chinese HRC suppliers sought to reflect their domestic price increases in the export markets as well. However, they were unsuccessful due to price pressure from buyers in the global markets. As a result, ex-China HRC prices softened slightly in early December, before switching to a sideways trend. In late December, Chinese HRC suppliers attempted to increase their export prices by $5-10/mt, but the new price range failed to gain acceptance in target markets.
Buyers continue to exert pressure on prices in global markets
Global HRC buyers increased the pressure on prices in December, believing that the 10 percent decline in iron ore prices in November had not been sufficiently reflected in HRC prices. Additionally, approaching the end of the year, demand from buyers declined as they sought to keep their inventories at low levels, and the reduced demand put further pressure on prices.
Ex-CIS slab prices decrease in December
Declining HRC prices and relatively high scrap prices caused EAF-based producers to increase pressure on slab prices in December. Since EAF-based producers found ex-CIS slab offers to be high, they reduced their demand for ex-CIS slab and stepped up their search for alternative suppliers. As a result, in order to avoid losing market share, CIS-based slab suppliers were forced to reduce their slab offers by an average of $20/mt in December.
Iron ore prices switch to uptrend in third week of December
In December, crude steel production in China declined slightly (though this decline did little to redress the imbalance between supply and demand) due to mandatory shutdowns of steel producers amid air pollution in Beijing and due to production cuts by unprofitable Chinese steel mills. As a result, flat steel prices in China rose slightly at the beginning of the third week of December, providing support for iron ore prices to move on an upward trend in the following days. In addition, pressure on finished steel prices decreased following the decision of the US Federal Reserve to hike interest rates, and this also provided support for iron ore prices. Even though iron ore prices ended the month of December on an upward trend, this rising price movement was expected to be short-lived.
Demand remains weak in EU due to holiday season
Demand in the EU was weak in December due to the holiday season and the year-end.
Turkish buyers mostly prefer domestic products
In December, both CIS-based HRC suppliers and Turkish HRC producers agreed to requests from buyers for discounts. Although import and domestic offers were almost at the same levels, Turkish HRC buyers mostly preferred domestic products due to financing and shipment reasons.
Iranian HRC suppliers continue to sell to Middle East
Iranian sellers maintained their position as market leader in terms of large volumes of HRC sales to the Middle East in December as well. While bookings of small tonnages of ex-CIS HRC were heard, no increase was observed in the market share of CIS suppliers.
HRC CIS Export Prices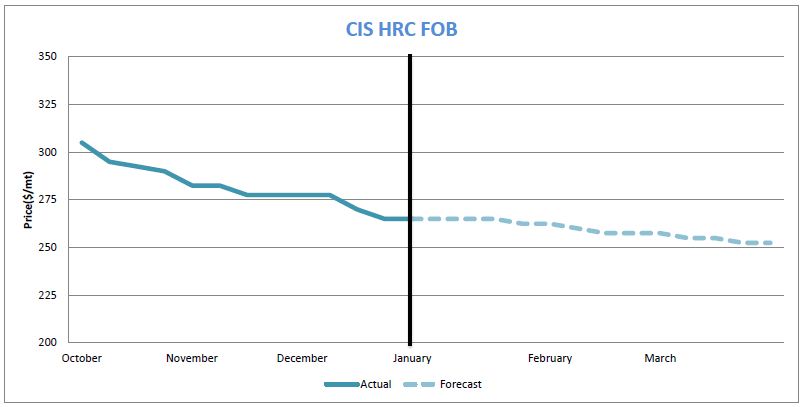 Assessment of semi-finished and finished steel market
Buyers will continue to put pressure on HRC prices amid supply-demand imbalance
The imbalance between supply and demand in the global steel industry is not expected to be resolved in the short term, since the approximate 40 million metric tons of steel production cuts in China have not been sufficient to end the oversupply - with China being slow to implement production cuts amid concerns over employment creation - and also due to the ineffective efforts of both governments and market participants in the world regarding a solution to the oversupply issue. As a result of this ongoing problem, buyers are expected to continue to exert downward pressure on HRC prices in the coming period.
Demand for HRC in Turkey not expected to rise
Although the November 1 general election brought an end to the political uncertainty in Turkey, economic uncertainty and cash flow problems in the domestic market continue to be seen. With no improvement in this situation anticipated yet, Turkish buyers' demand for HRC is unlikely to increase in the short term.
CIS suppliers' share in Middle Eastern HRC market not foreseen to increase
Since CIS suppliers are expected to continue to face fierce competition in the Middle East from aggressive Chinese and Iranian HRC offers, they are not expected to increase their market share in this region.
Chinese HRC prices to decline
The downtrend of iron ore prices observed in November and December has not yet been reflected in Chinese suppliers' HRC export prices. Accordingly, Chinese HRC exporters are expected to reduce their offers in the period after the New Year break.
Downtrend of ex-CIS slab prices to continue
Even though ex-CIS slab prices moved on a downward trend in December, the current price levels are not yet low enough to ensure profitability of HRC production. For this reason, slab prices will likely soften further since buyers are foreseen to continue to exert downward pressure on prices.
Steelmakers to make further production cuts
As the global oversupply of steel is not expected to be resolved in the short term, steel producers will likely continue to make production cuts and reduce their capacity utilization rates in the coming period.
Assessment of raw material markets
Uptrend of iron ore prices expected to be short-lived
Forecasts of further decreases in iron ore prices were issued in December, with Goldman Sachs further reducing its expectations for iron ore prices, predicting that prices will drop to $38/mt next year and to $35/mt in 2017 and 2018. Although iron ore prices recorded a slight increase in December, this uptrend is expected to be short-lived and prices will likely resume their downward movement in the coming period due to factors such as harsh winter conditions, the slowdown in activity with the approach of the Chinese New Year, the decrease in crude steel production in China resulting from slower domestic finished steel consumption, and the ongoing increase in iron ore supplies.
No significant rise anticipated in scrap demand from Turkish producers
Demand in the import scrap spot market in Turkey is expected to increase in January, though the improvement is foreseen to be limited as Turkish steel producers have already met most of their feedstock needs by means of the import billet bookings they concluded in December. With billet continuing to be a more advantageous option than scrap especially given current finished steel price levels, no significant increase is expected in Turkish producers' demand for scrap, while their demand for semi-finished steel is expected to be on the strong side in January. In this context, import scrap prices are expected to move sideways in the short term.
Negative
Sudden changes in foreign exchange rates
Increased fears of global economic slowdown because of developments in China
Possible new tax applications and increases in tax rates which would negatively impact global trade
Possible new antidumping cases
Changes in global economy due to political uncertainties
Effects of the political crisis between Russia and Turkey
Positive
Acceleration of economic improvement in developed countries
Easing of political uncertainties in the Middle East region
October 2012-April 2013 HRC CIS Export Prices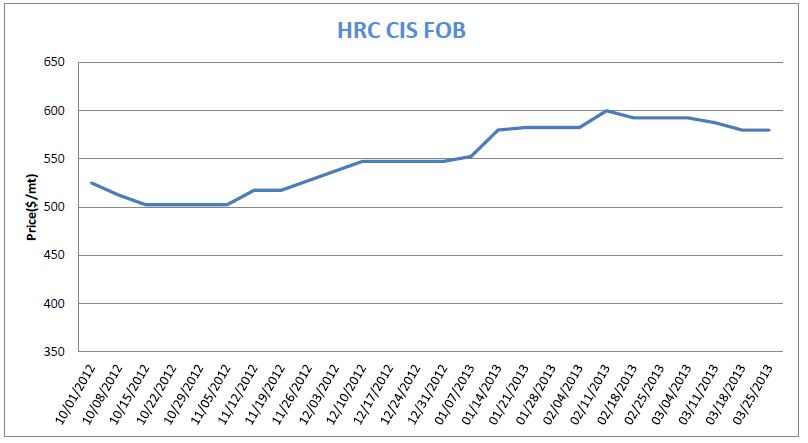 October 2013-April 2014 HRC CIS Export Prices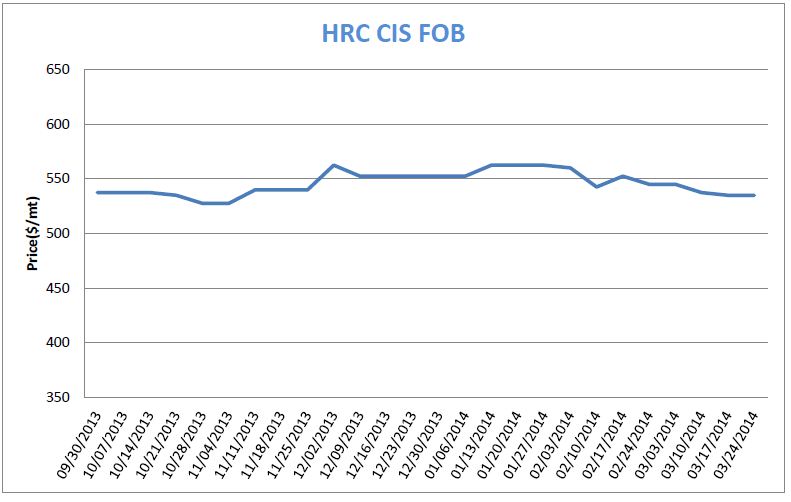 October 2014-April 2015 HRC CIS Export Prices
2005-2009 HRC CIS Export Prices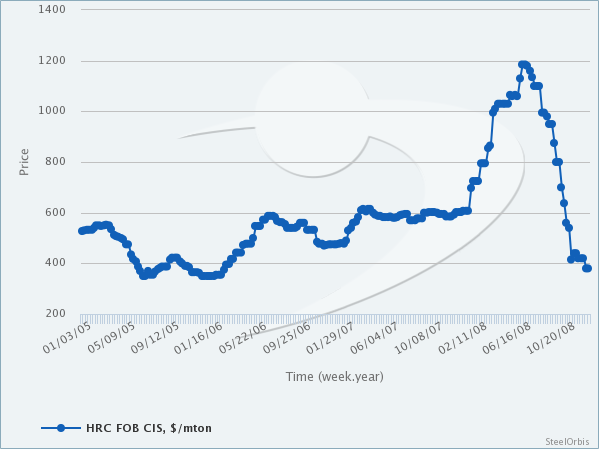 2009-2013 HRC CIS Export Prices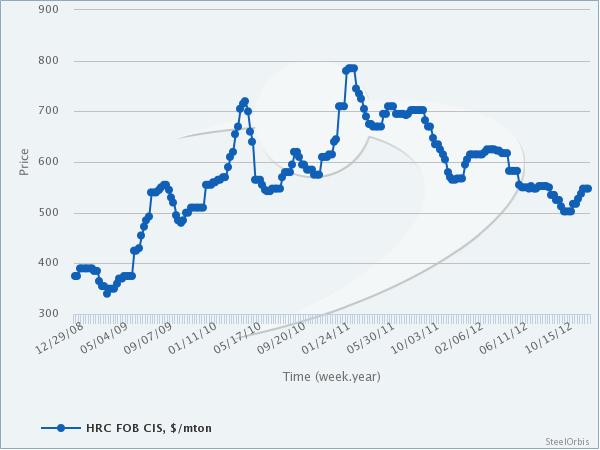 2013-YTD HRC CIS Export Prices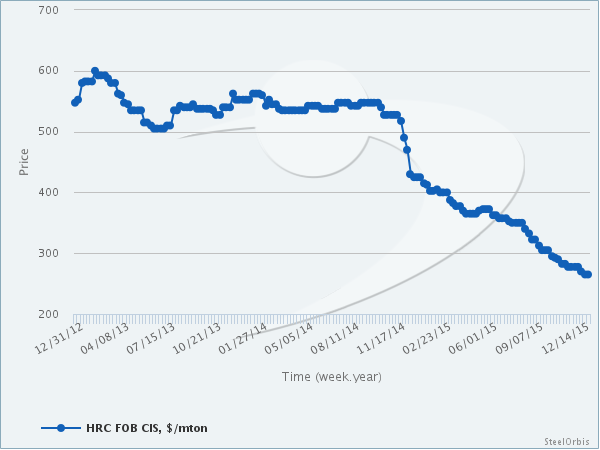 2011 – YTD Global HRC Prices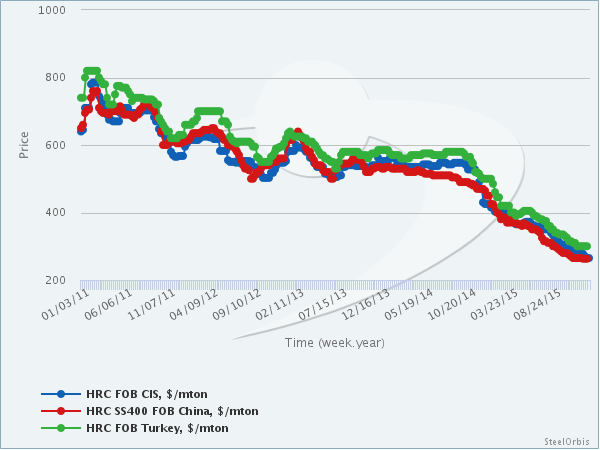 Severstal uses new type of raw material
Friday, 25 December 2015 11:35:47 (GMT+2) - Istanbul
Russian steel producer Severstal has announced that it has started to implement a set of measures for improving the technology of the redistribution and the use of new raw materials, which allows the company to achieve high volume production of pig iron at the lowest cost. In this context, Severstal began to use a new type of raw material, magnesia pellets, with a high content of iron to replace the iron ore concentrates with a high content of magnesium used in the production of sinter at its Cherepovets steel mill.
The company stated that in the current market conditions, when the price of iron ore materials is unstable, Severstal's goal is to strengthen the raw material security holding.
Severstal also increased the volume of ore processing at its Karelian Okatysh iron ore complex, thanks to the modernization of equipment and beneficiation plant. In addition, with the expansion of finished goods warehouse, the company is able to offer quick shipment.
Tension between Russia and Turkey likely to further pressure steel prices
Friday, 11 December 2015 17:57:47 (GMT+2) - Istanbul
The political tension between Russia and Turkey, following the shooting down of a Russian warplane by a Turkish fighter jet on November 24, is likely to put pressure on the global steel market, further depressing prices, the Bangkok Post has reported, citing the ASEAN Iron and Steel Council (AISC).
According to the Bangkok Post, AISC chairman Wikrom Wajracupta said the political conflict between the two countries could lead to a series of trade bans, potentially leaving a steel surplus to weigh on the market.
"Russia was a big exporter of steel slab, while Turkey was a leading importer to feed its domestic steel industry. With a trade ban, Russia would have to export its steel to other countries to offset the loss of Turkish business, adding pressure to a global steel market already reeling from excess Chinese supply," Wajracupta stated.
Russian steel consumption to decline by two percent in 2016
Friday, 04 December 2015 17:21:28 (GMT+2) - Istanbul
International credit rating agency Fitch Ratings has announced a negative outlook for the Russian steel industry. The rating agency expects a further decline of two percent in domestic steel consumption in Russia in 2016, driven primarily by weakness in the construction sector which could translate into long steel consumption declining by five percent year on year in 2016.
Fitch pointed out that flat steel consumption in Russia will at best remain stable on a year-on-year basis as a result of continued demand for pipes, especially large diameter, which are used in oil and gas pipeline construction. The negative outlook is also due to the expectation of that other end-using sectors such as automotive, machinery and electrical equipment will remain weak.
Export markets were supportive in 2015, keeping Russian steel production in line with the 2014 level. However, antidumping measures taken by EU authorities against Russian steel producers to protect domestic steel sectors from cheap imports may intensify, Fitch noted.
According to Fitch, there is a risk that Chinese exports will stay at high levels in 2016, constraining the recovery of prices. Weak pricing has been partly compensated for Russian steel companies by the weak domestic currency, and so average EBITDA margins have remained resilient.
Russia's finished steel output down 0.6 percent in January-October
Monday, 23 November 2015 16:08:34 (GMT+2) - Istanbul
Russia's finished steel output in October of this year amounted to 5 million mt, down 1.6 percent compared to September and down 0.5 percent compared to October of the previous year, according to Russia's Federal State Statistics Service (Rosstat). In addition, in the first 10 months of the current year Russian finished steel output went down by 0.6 percent year on year to 50.5 million mt.
In October alone, the country's long steel production decreased by two percent year on year to 1.6 million mt, while in the first ten months long steel production decreased by 6.2 percent.
In October, flat steel production totaled to 2,1 million mt, down 1.1 percent year on year, but was up 0.8 percent in the first 10 months.
In October, Russia saw a 5.5 percent increase month on month in its large diameter pipe production to 296,000 mt, while in the January-October period production decreased by 18.5 percent. In total, in the first 10 months the country's steel pipe production increased by 4.1 percent year on year to 9.6 million mt.
Ukraine's ferrous metal export revenues down 38.6 percent in Jan-Sept
Wednesday, 14 October 2015 13:47:52 (GMT+2) - Istanbul
In the January-September period this year, Ukraine exported $6.39 billion worth of ferrous metals, down 38.6 percent year on year, according to the data released by State Fiscal Service of Ukraine.
In September alone, revenues from ferrous metal exports totaled $682.34 million, while in August the figure had amounted to $652.49 million.
Meanwhile, in January-September period of the current year, Ukraine's imports of ferrous metals decreased by 47.6 percent to a value of $522.92 million, including $67.36 million in September.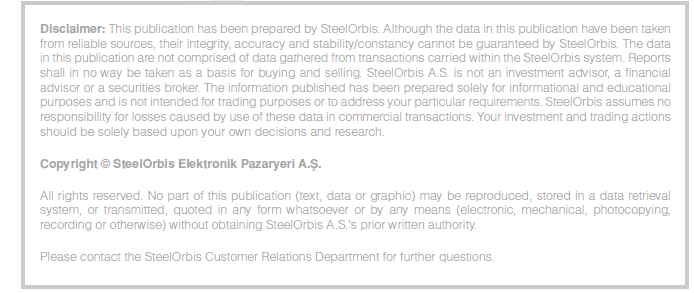 Print