In 2019, the estimated global supply of steelmakers' metallics will be about 2.3 billion tonnes, consisting of about 1.4 billion tonnes of pig iron production, 100 million tonnes of directly-reduced iron production and 795 million tonnes of steel scrap consumption. The scrap figure includes estimated recovery of about 350 million tonnes of obsolete (or old) scrap (that will be growing substantially in the next decade as the 10-40 year-old reservoir rises sharply in China), about 220 million tonnes of new scrap returned to the steel mills by processors and manufacturers and about 225 million tonnes of home steel scrap generated in steel plants as part of the production process.
Global steel production in 2025 is forecast to be little changed from the present time as a decline in China, due to lower steel demand, is only about offset by gains elsewhere. Hence, in 2025, the generation of new and home scrap will be slightly lower than in 2019 because of improved yields in the steel plants and further efficiencies on the part of manufacturers as they make more use of lighter weight and stronger steels.
In contrast, the generation of obsolete steel scrap is forecast to rise about 130 million tonnes per annum by 2025 due largely to much higher recovery in China where the 10-40 year old reservoir of obsolete scrap is rising sharply reflecting the sizable steel production gains since 2000.
Obsolete steel scrap is subject to sharp price swings because it's consumed last – i.e., it's the industry's most marginal product. This characteristic is well apparent in our "cardiac arrest" exhibit that portrays the percentage change in steel scrap prices from month-to-month.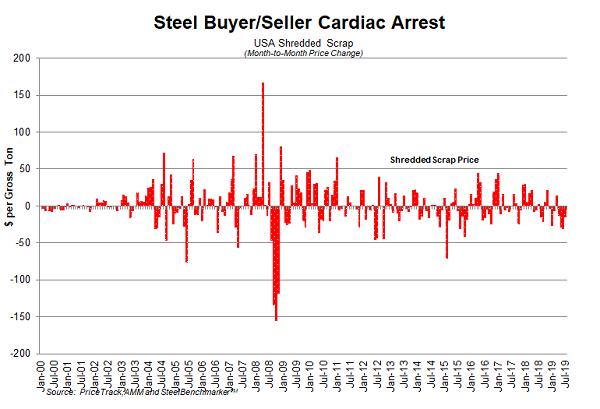 The price of steel scrap is a function of: a) swings in the price of finished steel products; b) swings in steel marketplace psychology; c) shifts in foreign exchange rates that impact steelmakers' costs and the price of scrap in home markets; d) swings in scrap usage due to changes in steel production; and e) the extent to which the scrap is overpriced or underpriced relative to the prices of iron ore and coking coal (the two major cost inputs in blast furnaces).
As indicated in the accompanying exhibit that compares the price of 80:20 heavy melt steel scrap delivered to Turkey against the blast furnace operator's cost of iron ore and coking coal (with about 1.6 tonnes of iron ore and 0.9 tonnes of coking coal needed per tonne of coke). We see that steel scrap price as of August 2019 is about $40 per tonne underpriced. Hence, in theory, there's still an incentive, but lessened now that iron ore and coking coal prices are lower, for BOF steelmakers to boost the proportion of steel scrap in their furnaces.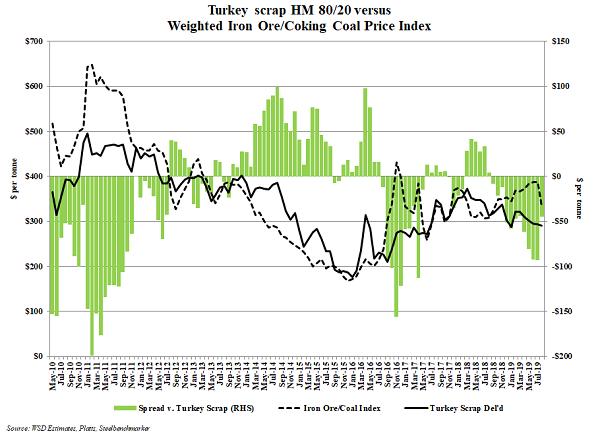 If there's a strong recovery of the global steel market in late 2019 or early 2020, steel scrap may rise sharply.
This report includes forward-looking statements that are based on current expectations about future events and are subject to uncertainties and factors relating to operations and the business environment, all of which are difficult to predict. Although we believe that the expectations reflected in our forward-looking statements are reasonable, they can be affected by inaccurate assumptions we might make or by known or unknown risks and uncertainties, including among other things, changes in prices, shifts in demand, variations in supply, movements in international currency, developments in technology, actions by governments and/or other factors.
The information contained in this report is based upon or derived from sources that are believed to be reliable; however, no representation is made that such information is accurate or complete in all material respects, and reliance upon such information as the basis for taking any action is neither authorized nor warranted. WSD does not solicit, and avoids receiving, non-public material information from its clients and contacts in the course of its business. The information that we publish in our reports and communicate to our clients is not based on material non-public information.
The officers, directors, employees or stockholders of World Steel Dynamics Inc. do not directly or indirectly hold securities of, or that are related to, one or more of the companies that are referred to herein. World Steel Dynamics Inc. may act as a consultant to, and/or sell its subscription services to, one or more of the companies mentioned in this report.
Copyright 2019 by World Steel Dynamics Inc. all rights reserved