For the past several decades, WSD has been using its "IDX" – a weighted index of activity for 15 USA steel-consuming industries or sectors – to track possible changes in underlying steel demand – that is, apart from mix shifts in the economy, swings in steel intensity (steel consumption per point of GDP) and changes in steel buyers inventory intentions.
As of December 2020, our IDX was down just 0.3% on a year-to-year basis. It was off a substantial 8.8% on a full year 12-month basis, versus 2019, in large part because of the depressed figures in the COVID-19 impacted second quarter.
Hence, the remarkable rise in the USA hot-rolled band price to about $1,200 per net ton at present in the United States versus the low of about $440 per ton in July 2020, has been in good part a function of continued domestic steel supply constraints and steel buyers seeking to add to inventory – both to replenish it and place orders further ahead in order to beat steel price increases. The supply constraints have largely been a function of: a) the industry operating at only about 70-75% of derived AISI capacity, as many integrated steel plants have continued to produce well below their capacity; and b) sharply lower foreign deliveries reflecting both the impact of prior steel trade suits on the imports of foreign steel (subsequently waived in the case of Canada and Mexico as a new three-country trade agreement – the USMCA – was finalized) and tight global supply/demand conditions throughout the global steel industry as economies emerge post-Covid.
The IDX's 15 activity level inputs are allocated into four sectors: a) capital equipment short-lead-time (CES), with an overall weighting of 51.1%; b) capital equipment long-lead time (CEL), with a weighting of 27.5%; c) consumer goods (CDIDX), with a weighting of 19.0%; and d) miscellaneous (MIDX), with a weighting of 5.0%.
In December 2020, the CES figure was down 1.1% year-to-year, with the 12-month figure down 10.5%. For CEL, the figures were -6.0% and -5.5%, respectively. For CDIDX, they were +9.2% (including +37.0% for residential housing) and -11.5%, respectively. While for MIDX, the figures were +8.7% and +0.6%, respectively.
No doubt, the USA economy this past December was clearly in an inventory accumulation mode. Many businesses, apparently, pared much inventory in the second quarter of 2020 because they failed to anticipate the strong economic rebound that has occurred; and, consumers were catching up in the deferred purchase of consumer durables in the second quarter.
When steel mills' order backlogs are extending, this is always a frightening development for steel buyers – that, in this case, caused a "buyers' panic" with many non-contract steel buyers placing orders further head. And, as this report is being published, delays in deliveries due to the ultra-cold weather in Texas is another factor favoring the domestic mills.
Key question: Have the USA's integrated mills learned to hold back output in order to sustain a higher price? WSD places the odds at one-in-four that this is the case.
For 2021, key steel-demand-related developments will include: a) the pace at which industrial companies resume their capital spending at a high rate – having cut it back during 2020; b) the availability of governmental funds for infrastructure projects given the massive fiscal deficit that will be repeated in 2021; and c) the extent to which consumer confidence is restored give the high likelihood that the country's unemployment rate will remain far above that in 2019. The unemployment rate in December 2020 was 6.7% versus 3.6% in December 2019.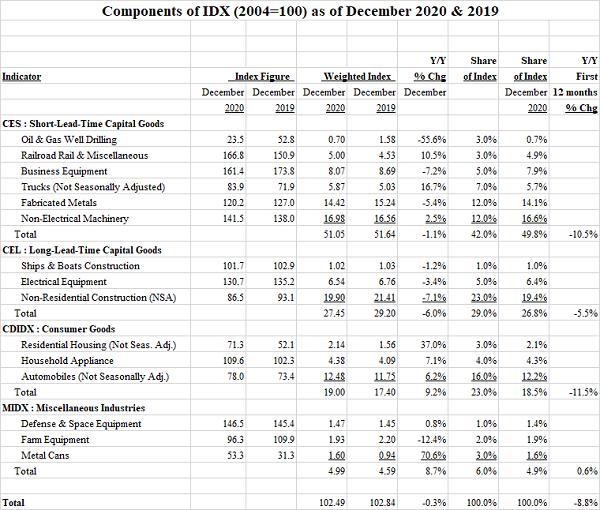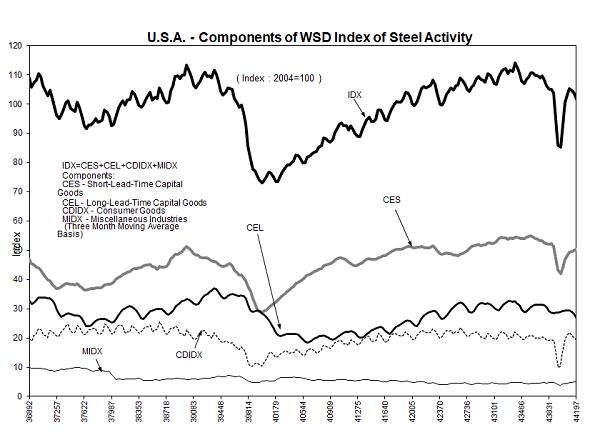 This report includes forward-looking statements that are based on current expectations about future events and are subject to uncertainties and factors relating to operations and the business environment, all of which are difficult to predict. Although we believe that the expectations reflected in our forward-looking statements are reasonable, they can be affected by inaccurate assumptions we might make or by known or unknown risks and uncertainties, including among other things, changes in prices, shifts in demand, variations in supply, movements in international currency, developments in technology, actions by governments and/or other factors.
The information contained in this report is based upon or derived from sources that are believed to be reliable; however, no representation is made that such information is accurate or complete in all material respects, and reliance upon such information as the basis for taking any action is neither authorized nor warranted. WSD does not solicit, and avoids receiving, non -public material information from its clients and contacts in the course of its business. The information that we publish in our reports and communicate to our clients is not based on material non-public information.
The officers, directors, employees or stockholders of World Steel Dynamics Inc. do not directly or indirectly hold securities of, or that are related to, one or more of the companies that are referred to herein. World Steel Dynamics Inc. may act as a consultant to, and/or sell its subscription services to, one or more of the companies mentioned in this report.
Copyright 2021 by World Steel Dynamics Inc. all rights reserve