The steel mills' profit outlook for the next half-decade, is now looking a lot better since the beginning of the century. Consider these items:
Steel's "Age of Protectionism." This age came into effect in the fall of 2016 in response to a massive surge in trade suits against the Chinese steel mills, and mills in other countries, following the immense and unprecedented decline of the HRB export price on the world market in late 2015 and early 2016.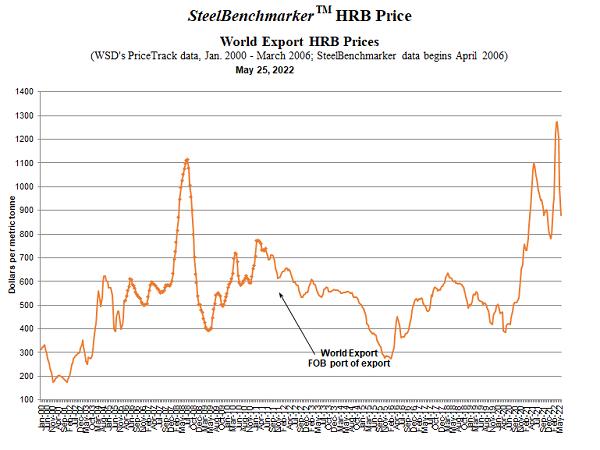 "Age of Steel Production Constraints." Now that policymakers in many countries are committed to sharply reducing CO2 emissions – with them sharply reduced by 2030 and almost eliminated by 2050 – there's been a profound change for the better, from the steel mills' point of view, in policymakers' attitudes towards the steel industry. In China, steel production is limited by fiat in order to hold down CO2 emissions. Outside of China, the owners of older integrated "legacy" plants, that may have an aggregated steelmaking capacity of about 300 million tonnes per year (roughly one-half of the total for non-Chinese integrated steel plants) are painfully aware that these units are poorly positioned to sharply eliminate CO2 emissions – either via new process routes and/or the capturing, processing, and sequestering of the carbon they emit.
Steel company merger and acquisition benefits. In general, when companies merge, besides cost savings and some marketing synergies, typically this development enhances their "pricing power."
In Japan, with the four major steelmakers now reduced to two after M&A activity – i.e., Nippon Steel is the combination of Nippon Steel and Sumitomo Metal and JFE is the combination of NKK and Kawasaki Steel. Hence, these mills have greater control of the downstream marketplace than before. Nippon Steel, as well, in 2020 acquired Nisshin Steel, the leading stainless producer. Nippon Steel, which is a 40 million tonnes per year (mmtpy) producer, has announced last January its intention, principally via M&A activity, to become a 100 mmtpy producer in acquiring G Steel and G J Steel, integrated steel mills in Thailand.
In the United States, Cleveland Cliffs in 2020 acquired AK Steel, that enjoyed a high end and automotive-oriented product mix. Then it purchased the northern USA plants of ArcelorMittal. Hence, the USA now has only two integrated steelmakers – U.S. Steel and Cleveland Cliffs – which have a combined steelmaking capacity of about 50 million tonnes. As well, these companies are the dominant, but not exclusive, suppliers of the highest grades of automotive sheet. Each has continued sizable research efforts under way to produce even higher-strength automotive steel for non-exposed applications. Although, notwithstanding their cost advantage, they may continue to suffer some further loss of market share in automotive sheet to the highly aggressive mini-sheet mills – i.e., Nucor and Steel Dynamics – that have made major strides in producing higher volume automotive sheet products.
In China, Baowu is now a 150 million tonnes per year (mmtpy) steel producer given its just-announced acquisition of 35 mmtpy Shandong Steel. Two years ago, it was only producing 60 million tonnes per year. Its goal is to become a 200 mmtpy producer. As well, if two other Chinese steel companies increase in size via acquisitions to about 100 mmtpy, the concentration of hot-rolled band production in China will have risen sharply. Thus, even though China has about 75 wide hot strip mills that are vying for market share, the leading Chinese steel mills will enjoy more "pricing power" in their home market because these hot strip mills will be owned by fewer corporate entities.
The profound improvement in the steel mills' "pricing power." Steel buyers in the past 12 months have, temporarily, lost the never-ending psychological war with the steel mills. Buyers at present can only play defense given the steel production constraints and increased steel industry concentration in a number of countries. In some regions, including USA/Canada and the EU/Eastern Europe, the integrated steel mills seem reluctant to add significantly to steel production despite the high price – no doubt, because it increases the possibility of steel product oversupply.
Some steel mills, it appears, are seeking to set their price as if they were oligopolists. In today's "Age of Protectionism," the steel mills no longer fear a surge of foreign deliveries if they hold back production.
This report includes forward-looking statements that are based on current expectations about future events and are subject to uncertainties and factors relating to operations and the business environment, all of which are difficult to predict. Although we believe that the expectations reflected in our forward-looking statements are reasonable, they can be affected by inaccurate assumptions we might make or by known or unknown risks and uncertainties, including among other things, changes in prices, shifts in demand, variations in supply, movements in international currency, developments in technology, actions by governments and/or other factors.
The information contained in this report is based upon or derived from sources that are believed to be reliable; however, no representation is made that such information is accurate or complete in all material respects, and reliance upon such information as the basis for taking any action is neither authorized nor warranted. WSD does not solicit, and avoids receiving, non -public material information from its clients and contacts in the course of its business. The information that we publish in our reports and communicate to our clients is not based on material non-public information.
The officers, directors, employees or stockholders of World Steel Dynamics Inc. do not directly or indirectly hold securities of, or that are related to, one or more of the companies that are referred to herein. World Steel Dynamics Inc. may act as a consultant to, and/or sell its subscription services to, one or more of the companies mentioned in this report.
Copyright 2022 by World Steel Dynamics Inc. all rights reserved