The rise of "prime scrap"
Prime scrap will only become more and more scarce with all the new flat-rolled EAF capacity coming online in the market over the next four years. In 2021, USA prime scrap averaged about $590 per gross ton, with a recent peak of about $650 per ton compared to the peak in 2008 of $860 per gross ton. Traditionally, the spread between shredded scrap and prime scrap averaged about $30 to $35 per gross ton. However, in 2021, the average spread was between $100 to $110 per ton. The current price in February 2022 for prime scrap is $570 per gross ton while shredded scrap is now about $470 per ton.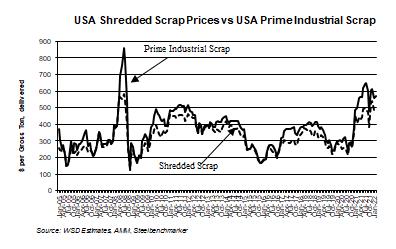 WSD is boosting its estimate for the prime steel scrap price delivered to the USA steel plant over the steel cycle. Reasons include:
The supply of prime steel scrap is price inelastic. Its supply is just above 200 million tonnes per year – i.e., about 11.5% of the steel products delivered to steel users (that at present is about 1.8 billion tonnes per year assuming a 90% steel product to steel production ratio). The generation of new steel scrap in the United States is about 11.5 million tonnes per year.
Demand for prime steel scrap will rise significantly in the next decade due to: a) the rising number of EAF-based mini-sheet mills that depend on prime scrap or its alternatives (directly reduced iron and purchased pig iron) for at least 40-50% of their metallics charge; and b) new EAF steelmaking units to be installed in integrated steel plants that are part of new process routes to lessen CO2 emissions.
In the USA, Nucor and U.S. Steel have each just announced a new 3 million ton per year EAF-based hot-rolled band producing plant – Nucor's will serve the industrial Midwest, while the U.S. Steel unit could be located on the river system in the southern portion of the United States.
A transformative USA steel industry development is the Cleveland Cliffs just-announced acquisition of the Midwest's Ferrous Processing Company (FPT) for $775 million. FPT has an estimated 15% share of the USA's prime steel scrap market. It has about 22 scrap processing locations and processes about 3 million tonnes of steel scrap per year.
The Nucor and USS capacity additions come on top of roughly 12 million tons of capacity already just completed and/or in the completion process. The list includes Big River Steel in Arkansas at 1.5 mmtpy, which will boost its output to 3.0 mmtpy; Nucor at 2.0 mmtpy at several plants including Gallatin, Kentucky; ArcelorMittal/Nippon Steel with 1.5 mmtpy of new EAF steelmaking capacity at Calvert, Alabama; JSW of India with 1.3 mmtpy at Mingo Junction just to the southwest of Pittsburgh; North Star Steel in Ohio at 1.5 mmtpy; SDI in Sinton, Texas, near Corpus Christi at 3.0 mmtpy; and, USS at 1.5 mmtpy at its Fairfield, Alabama plant near Birmingham.
Steel scrap is an international commodity. Global steel scrap trade is about 100 million tonnes per year.
Steel scrap consumption by the global steel and foundry industries in 2021 is estimated as follows:
Home scrap for the steel industry amounts to about 11.5% of crude production = about 230 million tonnes per year (mmtpy).
Prime scrap amounts to about 11.5% of the steel finished products and semis delivered to steel users = 11.5% X 1.8 billion tonnes per year = 207 mmtpy
Obsolete scrap is a function of the size of the obsolete steel scrap reservoir that's 10-40 years old. It's currently about 15 billion tonnes / 31 years = about 483 million tonnes in 2020. Given the prodigious rise that will be assuring in this reservoir by 2045, there will be a huge excess supply of obsolete scrap in China:
In 2020, the obsolete steel scrap reservoir 10-40 years old was 4.3 billion tonnes in China and 10.6 billion tonnes in the Rest of World.
In 2045, the figures will be about 18 billion tonnes for China and 15 billion tonnes for the Rest of World. Hence, the reservoir 10-40 years old in China's case rises by from 4 billion tonnes in 2020 to 18 billion tonnes in 2045 – which, if we divide by the holdings in the reservoir over 31 means, indicated that Chinese steel scrap recovery rises to 580 million tonnes in 2045 from 140 million tonnes in 2020, for a gain of 440 million tonnes.
Global scrap consumption for the steel and steel foundry industries in 2020 was about 928 million tonnes per year.
This report includes forward-looking statements that are based on current expectations about future events and are subject to uncertainties and factors relating to operations and the business environment, all of which are difficult to predict. Although we believe that the expectations reflected in our forward-looking statements are reasonable, they can be affected by inaccurate assumptions we might make or by known or unknown risks and uncertainties, including among other things, changes in prices, shifts in demand, variations in supply, movements in international currency, developments in technology, actions by governments and/or other factors.
The information contained in this report is based upon or derived from sources that are believed to be reliable; however, no representation is made that such information is accurate or complete in all material respects, and reliance upon such information as the basis for taking any action is neither authorized nor warranted. WSD does not solicit, and avoids receiving, non -public material information from its clients and contacts in the course of its business. The information that we publish in our reports and communicate to our clients is not based on material non-public information.
The officers, directors, employees or stockholders of World Steel Dynamics Inc. do not directly or indirectly hold securities of, or that are related to, one or more of the companies that are referred to herein. World Steel Dynamics Inc. may act as a consultant to, and/or sell its subscription services to, one or more of the companies mentioned in this report.
Copyright 2022 by World Steel Dynamics Inc. all rights reserved