Steel's "Last Hurrah"
Despite the recent weak pricing on the global market, WSD expects a high-priced – an "extreme" – steel shortage to recur by the spring of 2022. The hot-rolled band export price is forecast to rise to "Exospheric" levels – i.e., about $1,000-1,100 per tonne, FOB the port of export. We place the odds at 60% on this scenario.

The shortage, if it occurs, may be the steel industry's "Last Hurrah" in this cycle. By the summer of 2022, less than a year from now, WSD thinks that rising inflation and higher interest rates in many countries will have slowed the pace of the economic recovery outside of China. And, in China, the residential construction market may still be stagnant because of developers' excess debt – which may restrain the country's GDP growth to only about 4% per annum.
In 2023, relatively high inflation and boosted interest rates may cause global growth to be only moderate. Hence, returning steel oversupply and lower steel export prices may be "the norm" that year.
The critical development in the second half of 2022, and in 2023, will be just how well home-country prices hold up granted that the export market is weak. WSD's expectation is that home-market prices will hold up relatively well in good part because the steel industry in 2016 entered an "Age of Protectionism" – that's still in effect. Home market prices in a number of regions, including North America, Europe, Russia/Ukraine and South America, should be sufficiently high to provide the steel mills with fair to good profit opportunities. In an action that provides support of this concept, ArcelorMittal on October 7, 2021 announced a 50 euro per tonne surcharge on long steel products.
Steel Warrior Relinquishes His Iron Sword A Tribute to Peter F. Marcus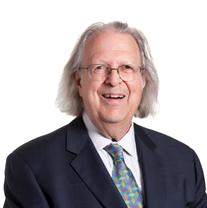 It is with great sadness that we write to inform you that our beloved founder of World Steel Dynamics and the steel industry's "patriarch," Peter F. Marcus, has passed away.
The steel industry was Peter's passion, inspiration and never-ending endeavor. His unique style and personality were only matched by his prophetic vision for the industry's ever-changing landscape. He played the field general of the "Economic Warfare" that symbolized the constant ups and downs of the steel price cycle, and he was always several steps ahead of the battle's evolution. "Kill and Win" was his motto as he charged into his next report, prognosticating "Death Spirals," "Volcanic Eruptions" and "Extreme Short-Ages."
Equal to his passion for the industry was Peter's love for its people. From senior executives to line workers, Peter genuinely wished success and prosperity for everyone he encountered in his travels around the world over the last 50+ years. He believed the steel industry was the fundamental building block for economic prosperity – the "engine" of the virtuous upward cycle that would ultimately benefit one and all; his words and actions embodied this belief. No doubt many of you have experienced this phenomenon first-hand.
Peter leaves behind several "families" – his personal family, his WSD family, and our "family" of clients and industry friends – all of which he loved immensely. Fortunately, with some advanced planning, WSD's generals are well prepared to take over and charge the battlefield. Peter's last report was ironically titled "Steel's Last Hurrah" proclaiming yet another prolific "ShortAge" for steel prices on the horizon in early-2022. Knowing Peter as we do at WSD, he's no doubt proclaiming "get on with it, the next report must go out!" and so we shall carry the proverbial torch forward with "Steel's Next Chapter"- our next report to be published in the weeks ahead.
In Loving Memory,
Philipp Englin, Adam Green, John Villa, Liam Tack, Karlis Kirsis, Richard McLaughlin, Yasu Mogami, Noboru Uchida, Jinghai Liu, John Conheeney and Mike Frawley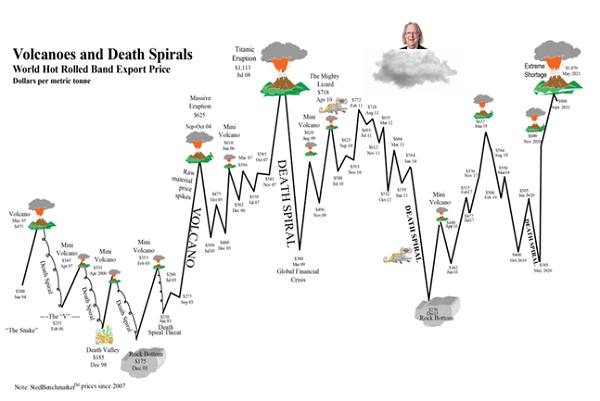 This report includes forward-looking statements that are based on current expectations about future events and are subject to uncertainties and factors relating to operations and the business environment, all of which are difficult to predict. Although we believe that the expectations reflected in our forward-looking statements are reasonable, they can be affected by inaccurate assumptions we might make or by known or unknown risks and uncertainties, including among other things, changes in prices, shifts in demand, variations in supply, movements in international currency, developments in technology, actions by governments and/or other factors.
The information contained in this report is based upon or derived from sources that are believed to be reliable; however, no representation is made that such information is accurate or complete in all material respects, and reliance upon such information as the basis for taking any action is neither authorized nor warranted. WSD does not solicit, and avoids receiving, non -public material information from its clients and contacts in the course of its business. The information that we publish in our reports and communicate to our clients is not based on material non-public information.
The officers, directors, employees or stockholders of World Steel Dynamics Inc. do not directly or indirectly hold securities of, or that are related to, one or more of the companies that are referred to herein. World Steel Dynamics Inc. may act as a consultant to, and/or sell its subscription services to, one or more of the companies mentioned in this report.
Copyright 2021 by World Steel Dynamics Inc. all rights reserved