According to the data provided by the Turkish Statistical Institute (TUIK), in March this year Turkey's wire rod exports decreased by 10 percent year on year to 164,191 metric tons, up 17.2 percent compared to the previous month. The revenue from these exports amounted to $81.75 million, up 17.9 percent month on month and decreasing by 23.4 percent compared to the same month of the previous year.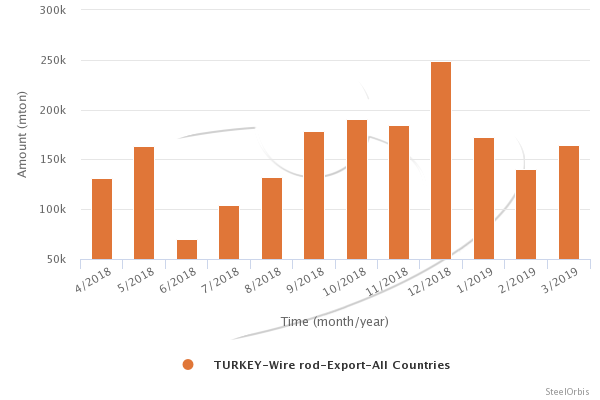 Meanwhile, in the first three months of this year, Turkey's wire rod exports amounted to 474,791 metric tons, up 8.9 percent year on year, while the revenue generated by these exports totaled $239.55 million, decreasing by five percent compared to same period of 2018.
In the given period, Turkey's largest wire rod export destination was Israel which received 119,298 metric tons. Israel was followed by the Netherlands with 52,517metric tons and Haiti with 44,583 metric tons.
Turkey's main wire rod export destinations in January-March 2019:
Country

Amount (mt)

January-March 2019

January- March 2018

Y-o-y change (%)

March
2019

March
2018

Y-o-y change (%)

Israel

119,298

106,085

12.46

43,007

16,307

163.73

Netherlands

52,517

26,169

100.68

-

-

-

Haiti

44,583

-

-

18,210

-

-

Romania

35,308

29,458

19.86

13,608

18,226

-25.34

Morocco

22,825

4,446

-

14,830

243

-

Australia

16,011

16,075

-0.4

6,597

5,226

26.23

Bulgaria

11,755

-

-

1,589

-

-

Chile

11,711

3,907

199.74

5,464

-

-

Turkey's main wire rod export destinations in the January-March period: