According to the data provided by the Turkish Statistical Institute (TUIK), in May this year Turkey's wire rod exports increased by 41.5 percent year on year to 231,028 metric tons, up 43.9 percent compared to the previous month. The revenue from these exports amounted to $119.86 million, up 47.6 percent month on month and increasing by 20.4 percent compared to the same month of the previous year.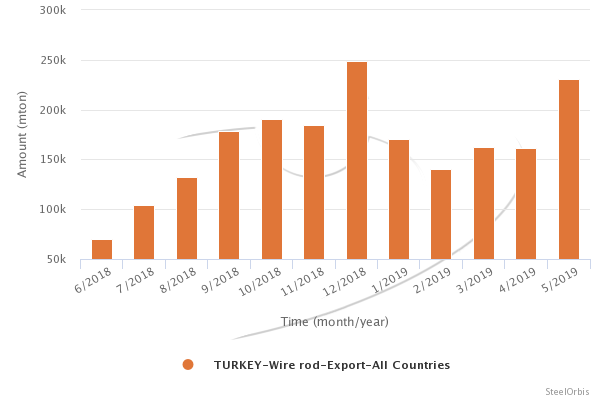 Meanwhile, in the first five months of this year, Turkey's wire rod exports amounted to 864,949 metric tons, up 18.3 percent year on year, while the revenue generated by these exports totaled $431.03 million, increasing by 2.1 percent compared to same period of 2018.
In the given period, Turkey's largest wire rod export destination was Israel which received 181,979 metric tons. Israel was followed by the Netherlands with 104,517 metric tons and Haiti with 57,190 metric tons.
Turkey's main wire rod export destinations in January-May 2019:
Country

Amount (mt)

January-May 2019

January- May 2018

Y-o-y change (%)

May
2019

May
2018

Y-o-y change (%)

Israel

181,979

135,190

34.61

25,827

19,960

29.39

Netherlands

104,517

75,078

39.21

52,000

24,099

115.78

Haiti

57,190

14,907

283.65

10,860

11,231

-3.30

Bulgaria

47,550

2,025

-

22,323

-

-

Belgium

37,529

161,405

-76.75

29,993

41,250

-27.29

Romania

35,626

48,690

-26.83

-

15,686

-

Senegal

34,363

3,002

-

14,974

-

-

Morocco

26,846

8,546

214.14

1,150

-

-
Turkey's main wire rod export destinations in January-May: